If you're planning on hosting a cupcake themed party, here are some ideas to get your juices flowing.  With so many options on the market for cupcake invitations, cupcake party supplies and millions of posts on cupcake decorating, this topic seems to be far from over.  In fact, there are so many new great ideas as to how to incorporate cupcakes that it seems fitting to make an entire party themed around these great little desserts.
There are so many fabulous invitations on the market that feature cupcakes, some that you can make and some that you can create online.  Here is a sampling of just a few of my favorites:
These darling cupcake invitations from the Etsy shop, Whenitrains include fun pattern paper and an insert where the invitation information goes.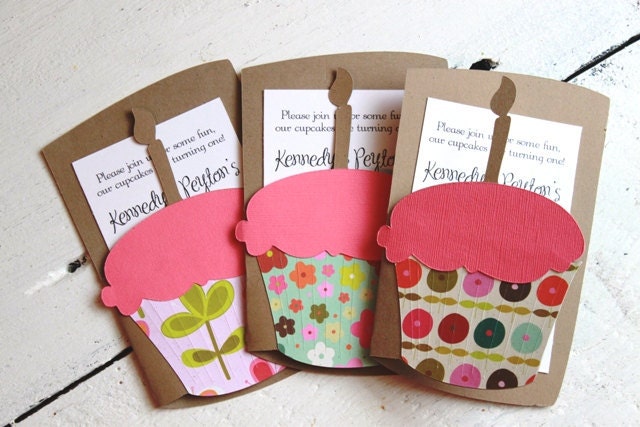 Or, a more grown up cupcake inspired cake invitation is this great birthday invitation from UrbanityStudios where you can easily change the colors and text in their online tool.
After you select your invitation (good luck, there are so many great options) and select your guest list, it's time to start thinking about decorations.
For centerpieces, why not use the plastic cupcake liners and fill with fresh blossoms:
Or, what about making a sign that hangs above your buffet or even on your entrance that says "Hello Cupcake!"
Banners are always a great option and I love Event Lucky's twist on using actual cupcake liners to make the banner.  So great.
During the party, there are many fun ideas for carrying on the cupcake theme.
Take for instance, this interactive way to serve cupcakes during your party. Set up a buffet full of undecorated cupcakes, toppings, frostings and you have a cupcake bar.
Or, what about creating a cupcake contest.  Ask guests to bring a few cupcakes to share and have judges score the cupcakes on taste, presentation and of course, creativity.
If your having a children's cupcake party, you can give each child a baked, undecorated cupcake and ask them to make the most outlandish, fancy, etc. cupcake they can. Provide the kids with sprinkles, cotton candy, edible flowers, and other fun items that will make the cupcake decorating a ton of fun.  Give out prizes for "the most imaginative cupcake" or "most explosive" or "most colorful".  Have enough prizes for each child and award them for their great cupcake work.